Officials and Chinese Leaders Participated in Unveiling of San Francisco Chinatown Visitor Information Center (SFCVIC)
After months of hard work, San Francisco Chinatown with more than 170 years history has finally launched its first visitor center — Chinatown Visitor Information Center (CVIC) on January 31 2019.
The center is located at 625 Kearny Street in San Francisco. The grand opening was held outside of CVIC with more than 100 guests attending to witness this important moment, including SF District 4 Supervisor Gordon Mar, District 6 Supervisor Matt Haney, District 9 Supervisor Hillary Ronen, Deputy Faqiang Ren from the Consulate General of the People's Republic of China in San Francisco, directors from the seven Benevolent Associations, representatives from San Francisco Police Department (SFPD), SF Superior Court judges, and other significant organizations. It was an honor to have San Francisco Mayor London Breed, San Francisco Board of Supervisors Norman Yee, SF District 1 Supervisor Sandra Lee Fewer, District 3 Supervisor Aaron Peskin, CEO of SF Travel Joe D' Alessandro, Former Executive Director of Chinese Culture Center (CCC) Mabel Tang, CEO of Singtao USA station Robin Mui, and the CEO of SF Singtao Daily Joseph Leung to do the unveiling. Chinatown was filled with joy, applause and cheer.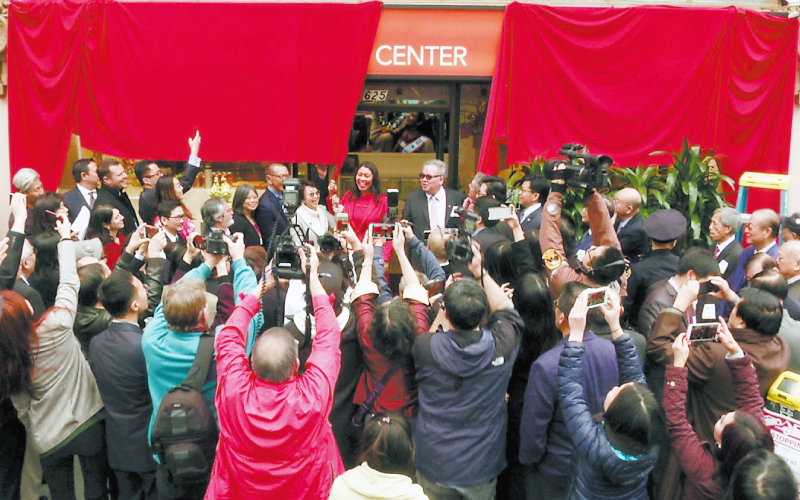 (from middle left to right) Supervisor Peskin, Supervisor Fewer, Mabel Tang, Mayor Breed, Robin Mui, and other guests all gathered in Chinatown for the ceremony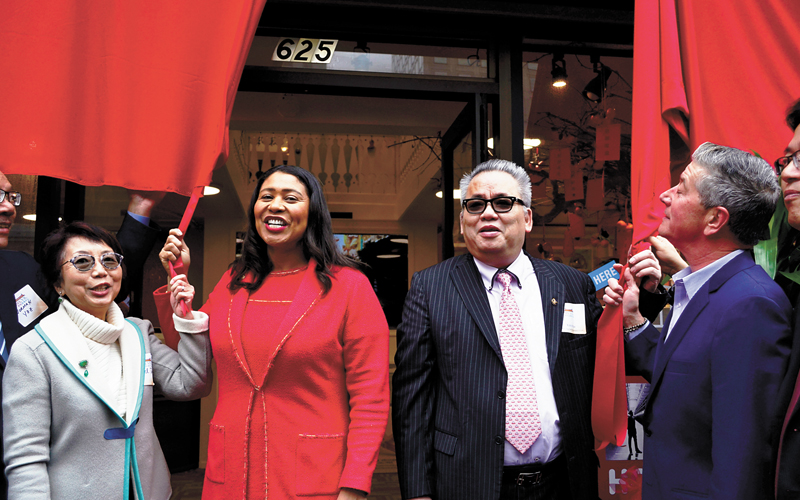 (from left to right) Mabel Tang, London Breed, Robin Mui, Joe D' Alessandro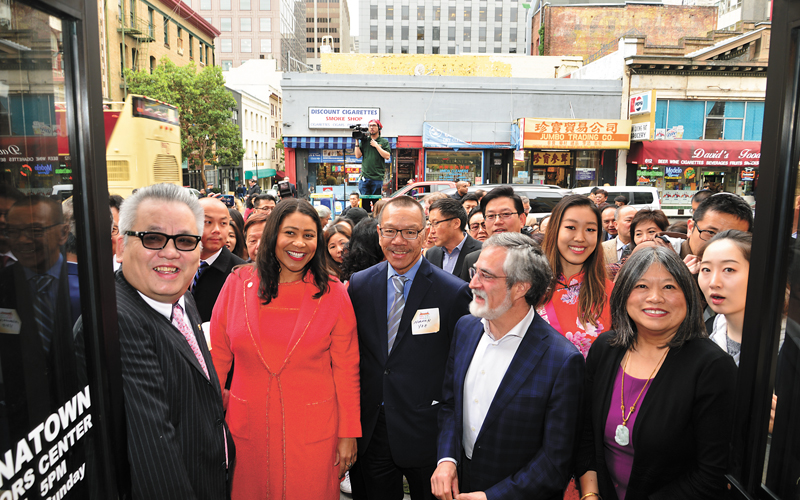 (from left to right) Robin Mui, Mayor Breed, Norman Yee, Aaron Peskin, and Sandra Fewer were the first guests of the center.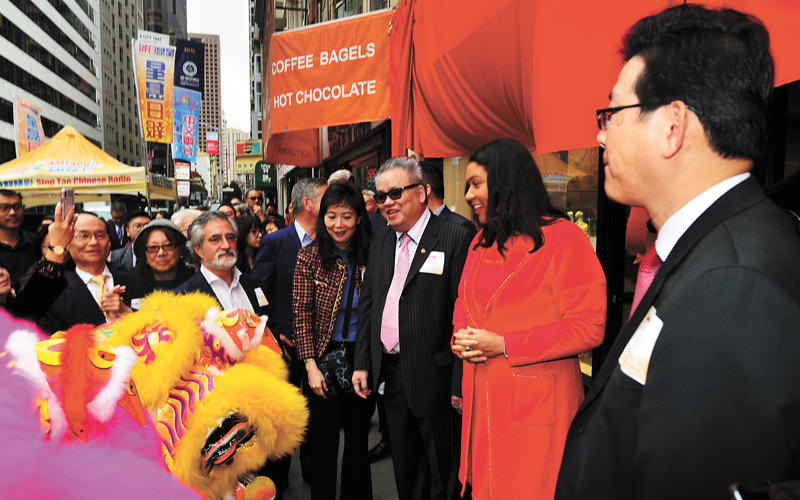 Lion Dance before the ceremony started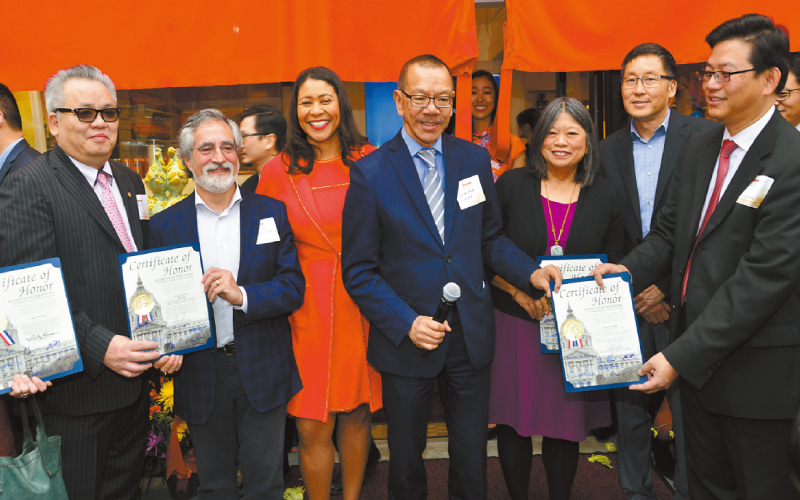 Mayor Breed and elected officials were presenting congratulatory letters to Joseph Leung.
San Francisco has the biggest Chinatown outside of Asia, and the second most tourists in the city. However, Chinatown and its uniqueness has never been mainstreamed and truly understood due to language barrier and cultural difference. Singtao Daily decided to partner up with San Francisco Tourism Bureau (SF Travel) on building the visitor center, and they were working so hard to make this a success in the past few months. CVIC becomes the one and only tourist information center in Chinatown that provides visitors guidance to specific attractions, transportations, hotels, restaurants, or other types of shops in Chinatown. Their goal is to hope tourists to explore the history, heritage, and culture of Chinatown, but most importantly, to promote Chinatown's tourism and economic as well.   
Robin Mui and Joseph Leung Received Overwhelming Support from Community
Joseph Leung came out the idea of establishing CVIC, which has received an overwhelming support not only from the community and organizations, but also variety of elected officials, according to Mui who came all the way from New York to attend the grand opening. California State Governor Gavin Newsom, California assemblymember Scott Wiener, Kansen Chu, David Chiu, and Phil Ting expressed their congratulations through their videos and congratulatory letters. "Thanks to Singtao for establishing the visitor center. They are working so hard to promote Chinatown through newspapers, TV, and social media." said by Mayor Breed at the grand opening. "The center is located in the center of the city which is a great location that it will serve the visitors from all over the world."
Supervisor Peskin hopes the city can provide funding for the center and could turn the commercial parking zone outside of CVIC to white zone for tourist buses to pull over.
"There are so many places in Chinatown that are worth to explore, not only the attractions but also how special our Chinese community is," said by Supervisor Fewer who grew up in Chinatown. "The establishment of the center strengthens the power of Chinatown and protects the rights of Chinese people."
Let Tourists Get the Most Valuable Message about Chinatown
According to Alessandro, San Francisco has around 25 million visitors every year, almost half of them would pay a visit to Chinatown, and the number is still growing. Tourism Bureau is excited to partner with Singtao, aiming for more tourist buses arriving Chinatown. In general, tourists do not have idea of where to buy distinctive Chinese handicrafts, eat the most authentic Chinese food, and appreciate Chinese art culture in Chinatown. However, they will be able to find all these answers at our tourist center. Singtao is very active in serving the community, and they are looking forward to bringing all the resources and economic development to Chinatown. 
SFCVIC Official Website Is Also Available Now
Mabel Tang believes that the center will play an important role in promoting Chinatown and spreading the Chinese culture. CVIC will also display outstanding Chinese art work from The Chinese Cultural Center regularly. In the meanwhile, the visitor center also made an official website:  www.bestofsfchinatown.com introducing the most worthwhile shops and merchants to visitors with a full-scale introduction.
SF Chinatown and SFCVIC Welcome You!